CLEAR + BRILLIANT™
Clinically proven to make skin look and feel younger!
We all have a routine we rely on to stay at our best. When it comes to our skin, we put a lot of trust in products and professionals to help us do all we can to fight the signs of aging. We all want to hold on to that youthful look and feel as long as we can. Which is exactly why we developed Clear + Brilliant.

The Clear + Brilliant Care Continuum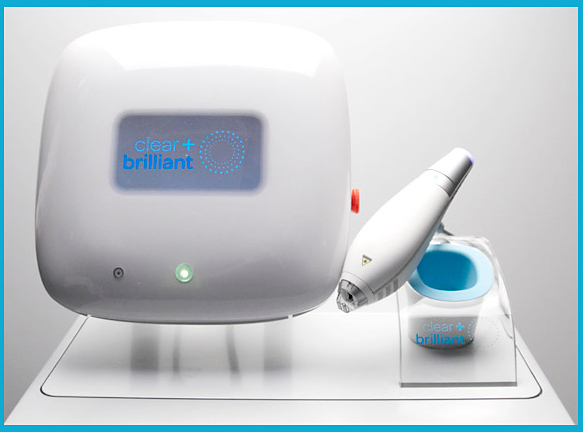 Just 30 minutes to smoother, younger looking skin.
Clear + Brilliant is a revolutionary, gentle laser skin care treatment!

A Powerful, Yet Gentle, Laser Skincare Treatment
A lot of work goes into keeping you looking like you – lotions and creams, trainers and stylists – all focused on keeping you looking your best. Clear + Brilliant is a powerful treatment you can add to your regimen to make it a little easier to keep your skin looking its youthful best. Offered exclusively through licensed skincare professionals, Clear + Brilliant is proven to help improve tone, texture and pore size appearance. You'll see and feel the difference; smoother skin that will make you look and feel great.

The Clear + Brilliant:
Is safe, non-surgical and non-invasive
Is a gentle, revolutionary treatment that fights the natural effects aging has on skin
Helps improve tone and texture and gives skin a radiant, youthful glow
Creates a more even skin canvas, with reduction in the appearance of pores
Is a perfect complement to individual beauty and lifestyle regimens

A Typical Clear + Brilliant Treatment:
Requires about 30 minutes for a complete session
May involve application of topical numbing cream to your face prior to treatment in order to provide additional comfort
Is delivered by your skin care professional, who will gently guide the Clear + Brilliant handpiece across the target area and actively treat your skin for approximately 20 minutes
Utilizes the patented Intelligent Optical Tracking™ System (IOTS™) to ensure your skin care professional maintains proper contact with your skin and provides a uniform application to all treated areas
With Clear + Brilliant Perméa treatments, a topical antioxidant serum will be applied to the skin immediately after treatment.

After Treatment:
1. Immediately post treatment, you may experience some redness and mild swelling, but both typically diminish in about 12 hours
2. Over the next few days, you may experience some itchiness or skin sensitivity (to touch or temperature). Both are indications of the natural renewal process and typically dissipate a few days after treatment
3. Most typical skin care products and practices can be used immediately after treatment – your skin care professional will talk to you about any products to avoid following treatment